In our last blog article, we reviewed the "main three" types of presentation software used by most people—PowerPoint, Google Slides, and Prezi—and in this month's article we're looking at a few that aren't as well known. Even though some cloud-based software such as Canva are known for their design tools, and Powtoon may be known for its ability to create animated videos, they are gaining momentum as presentation software tools for those who want to add a more professional look to their presentations. Here's a review of a few that you might enjoy trying out: Canva, Powtoon, and Slidebean.

1. Canva

Canva is a tool that focuses on design rather than just on making presentations, with features that enable you to easily create various marketing tools (including presentations), such as posters, banners, flyers, invitations, and more. It is meant to be a graphic design tool that can help you design logos and other aspects of your visual identity across multiple canvases, so to speak (hence the name Canva, I'm assuming). When you sign up (which is free), it asks whether you're using it as a teacher, student, small business, large company, non-profit/charity, or for personal/other reasons. I chose Small Business, which they say means "You're here to design your brand from the ground up"; it then gives you a number of templates to choose from to start your first project, and then voila, you have a presentation template that you can customize and use for marketing materials as well.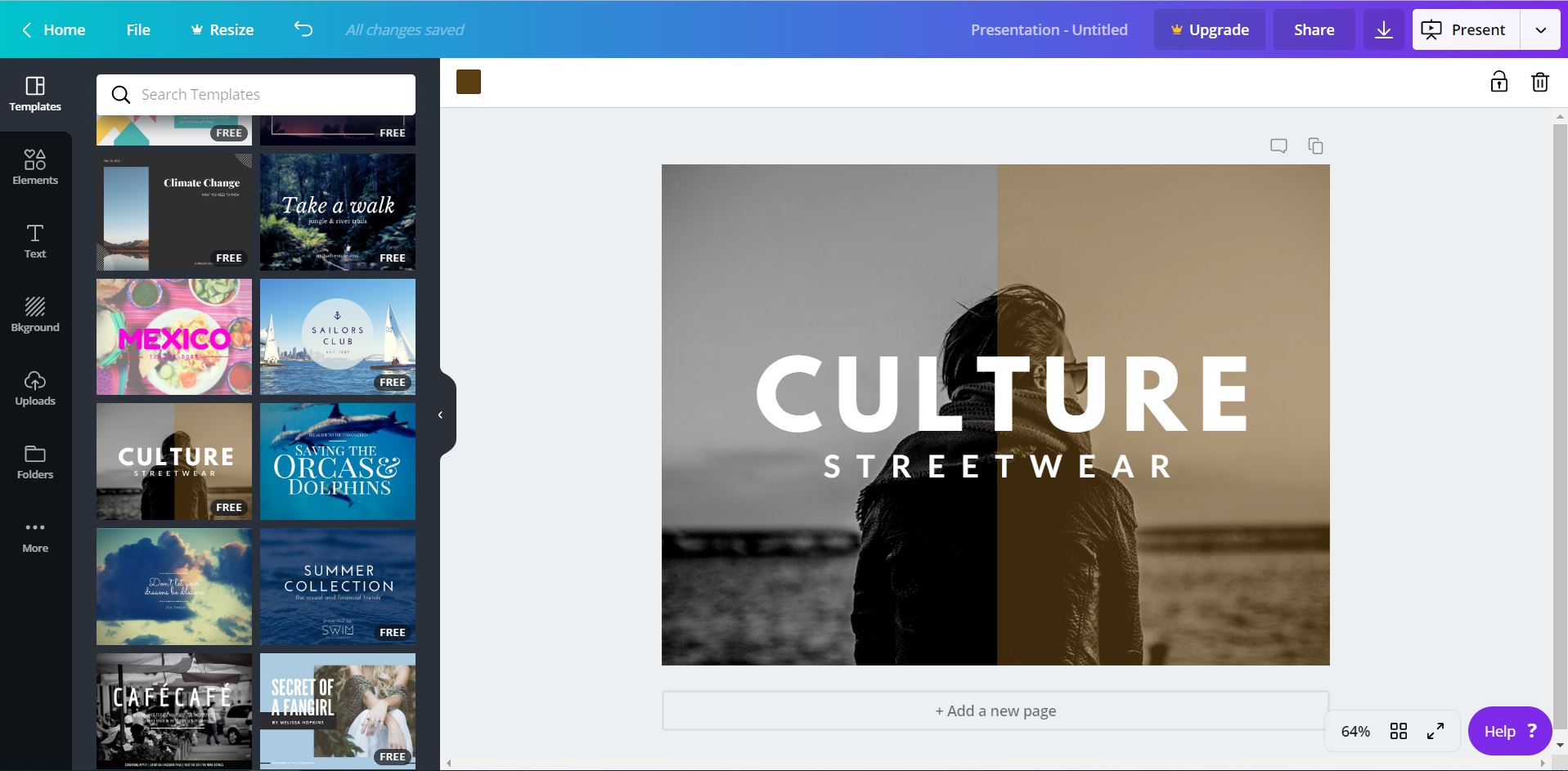 Canva is also super easy to use (much easier than PowerPoint is for the first-time user) and can add a unique style and professionalism to your presentations that you just can't get from most templates in PowerPoint or Google Slides. However, not all of the templates are free (although this is the pricing model used by most "free" cloud-based software, such as WordPress's templates for making websites), but you can usually tweak or customize the free templates enough to suit your purposes.
You can also invite team members to work on projects or share your presentation with others to view or edit, similar to what you can do with Google Slides.


2. Powtoon

If you're looking for a platform that enables you to use more animations and videos in your presentations, something like Powtoon may be just what you need. There is a free plan, which doesn't offer as many features as the paid plans (which range from $16-$99/month), but it is still enough to get you going with a number of easy-to-use templates. These presentation templates would be perfect for introducing a sales pitch, demonstrating a product, or displaying a brief company backgrounder on a loop at a trade show. It is also very intuitive to use and provides pop-up tips to help you get started. I will definitely be using this one in the future (not just for product demonstrations or sales presentations, but when using a "flipped classroom" approach for teaching, so that students can view lectures on a website outside of class and work on activities in class instead).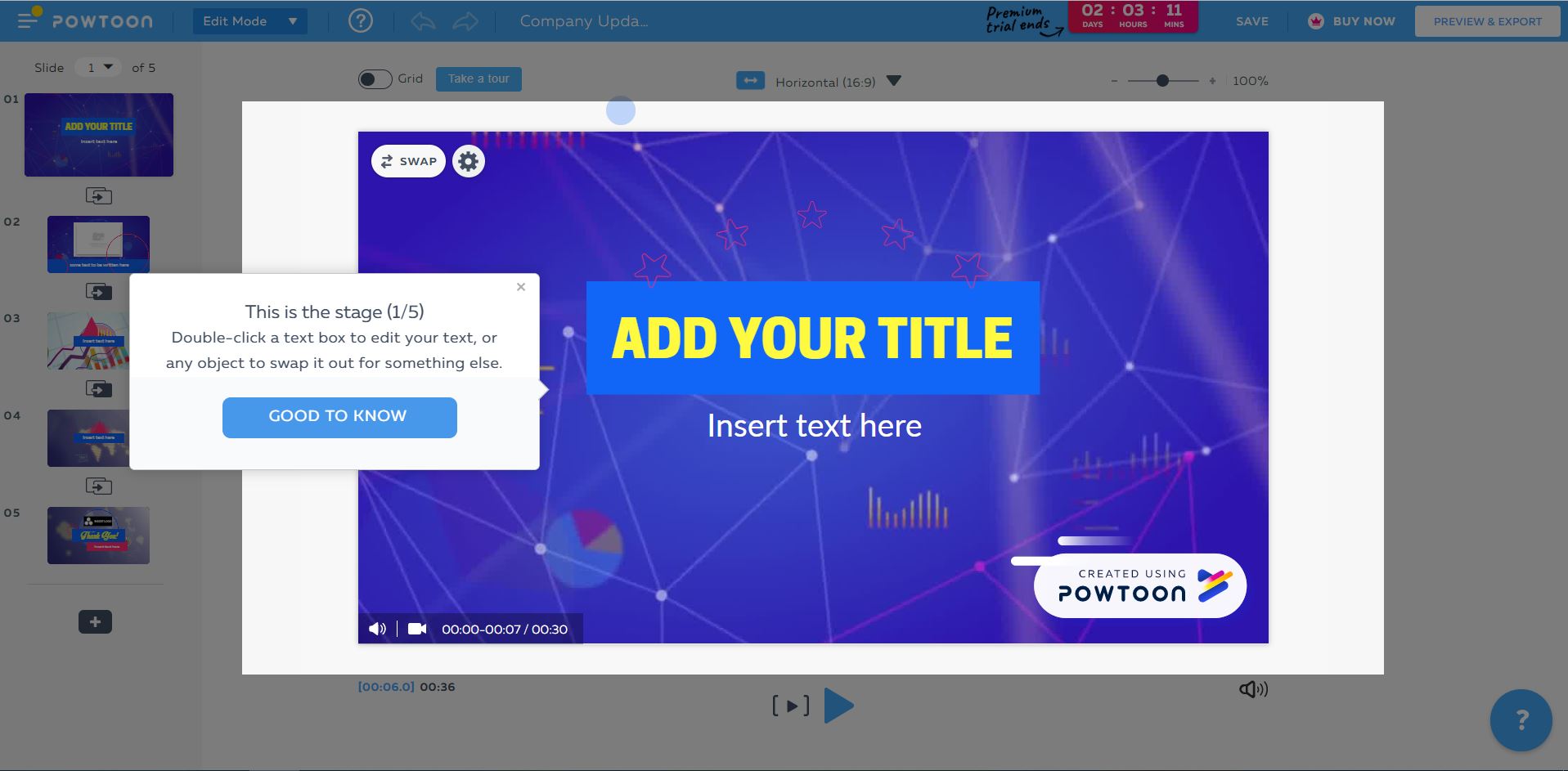 3. Slidebean

Slidebean claims to be the "first slide design platform powered by Artificial Intelligence." It customizes the selection of slide designs based on where you've clicked, and uses algorithms to find designs that are readable and aesthetically appealing, according to its information page. They also say it uses "an advanced neural network" to recognize elements in images and then align them. I didn't really notice these AI features while I was using the software, but perhaps it needs to build up an understanding of your clicks and images/etc. if it claims to find the perfect slide design based on your clicks and interests. It sounds similar to the algorithms used by Facebook and Google to show ads you're interested in. Some people like this, and some really don't, but it might be useful in presentation design software. Overall, Slidebean has nice designs and will make your presentations look more professional than if you use PowerPoint or Google Slides, but you have to pay around $96/year to access all of the features (such as being able to create unlimited presentations, share presentations, present online, and export to PDF or html), so it's nice, but perhaps not worth having to pay extra to access features that are similar to those available in other presentation software that offer more of their basic features for free.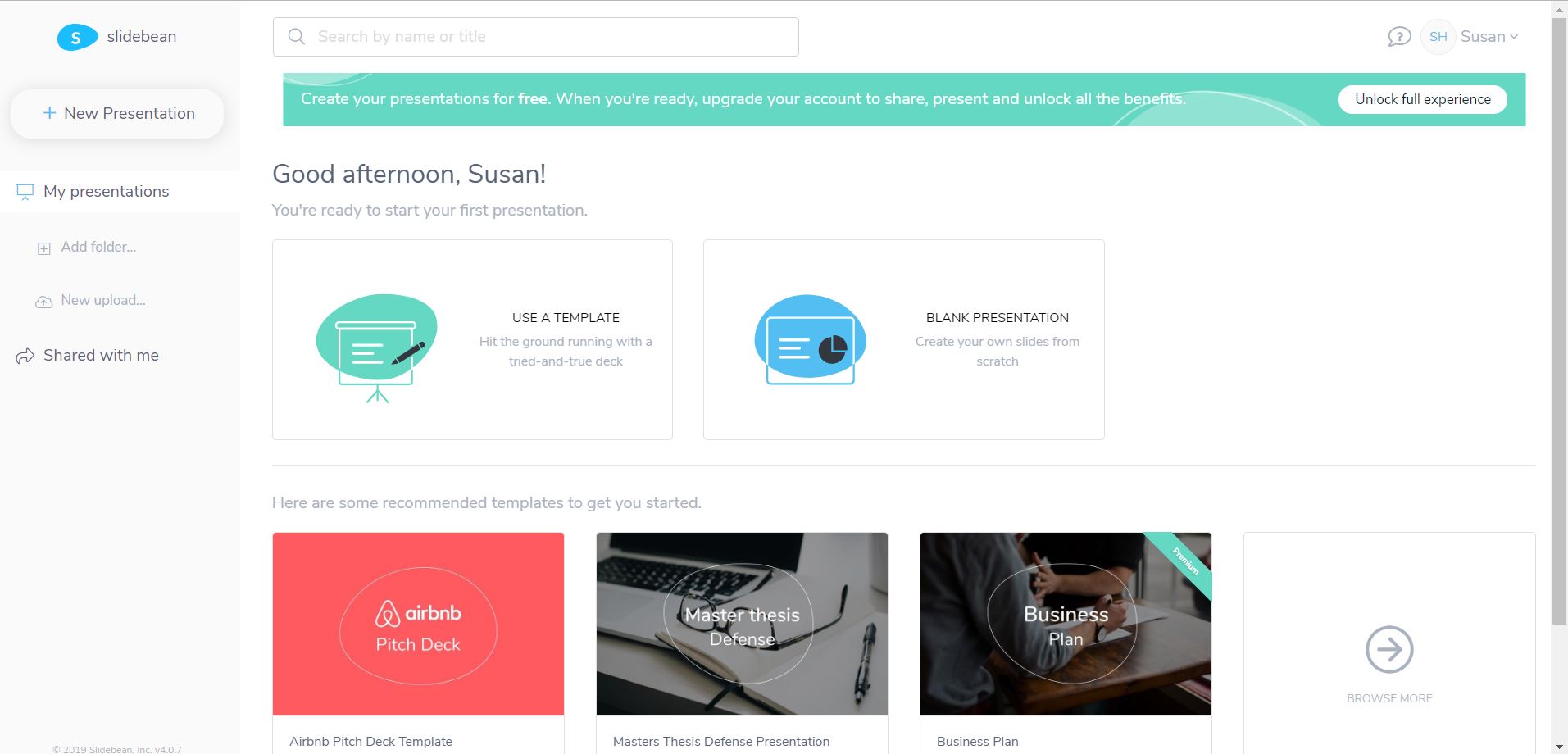 It's only a matter of time before we start seeing more alternative presentation design software being used not just as a substitute for PowerPoint and Google Slides, but in their own right. Unless you're needing something really specific (such as customized animations), most of the free cloud-based platforms offer the features you'll need to make impactful presentations that go beyond the mundane bullet-point-based slide decks of yesteryear. Hopefully the above information will encourage you to check out some of these other very cool presentation platforms!
---
---
---
---